ABOUT ME
I've been providing research and writing services to other attorneys since 2008.

I am a magna cum laude graduate of the University of Miami School of Law and am licensed to practice law in Kentucky and Florida.

I can provide legal research & writing services in all U.S. jurisdictions in accordance with each jurisdiction's Rules of Professional Conduct. (Please see this page for a discussion of multi-jurisdictional practice.)

I am committed to providing thorough, accurate, and timely legal research & writing services for busy attorneys at a low hourly rate. I am essentially an "associate for hire" on a contract or temporary basis.
In addition to excellent academic credentials, I have many years of experience in research and writing.
WEB RESUME FOR GEORGE SCHUHMANN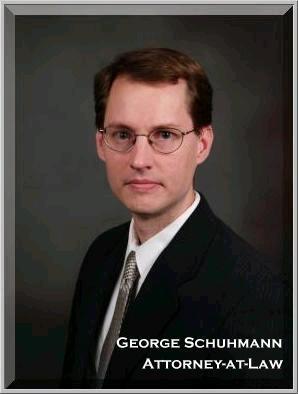 Florida Bar Association, 2005-present
Kentucky Bar Association, 2008-present
Kentucky Justice Association
Western District of Kentucky

1. Law Clerk, Steven Reed Cohen, P.A., Pembroke Pines, Florida, 2006

Researched and drafted pleadings, motions, discovery documents, legal memoranda and correspondence for this

general civil practice

(including contract disputes, torts, family law, trusts, estates, guardianships, landlord/tenant, etc.).
2. Litigation Associate, Glasser, Boreth, Ceasar & Kleppin, Plantation, Florida, 2005
Researched and drafted pleadings, motions, responses, replies and discovery documents in this

employment discrimination practice

.
3. Research Assistant, Professor Robert Rosen, University of Miami School of Law, Summer 2004
Wrote memoranda on diverse legal subjects including Swiss banking law, Japanese legal and corporate culture, and

corporate governance

changes under the Sarbanes-Oxley Act.
4. Public Interest Law Fellow, Legal Aid Services of Broward County, Ft. Lauderdale, Florida, Summer 2003
Drafted pleadings and motions, wrote legal memoranda, attended hearings, and researched legal issues in the

Childrenís Advocacy

Unit

.
Back to top
1. Japanese Interpreter and Translator, self-employed, 1996-2002
2. Materials Editor and Curriculum Consultant, Won Institute of Graduate Studies, Glenside, PA, 2000-2001
Researched, created, edited and proofread documents pertaining to the establishment of this Korean Buddhist institutionís graduate-level educational and training programs.
3. English Instructor, JET Program, Yamatsuri Middle School, Fukushima Prefecture, Yamatsuri-machi, Japan, 1992-1995
Planned lessons, taught in the classroom, and supervised student activities. Translated and edited documents for the local Community Development Center. Taught English classes for adults and children in the community.
Back to top
EDUCATION
1. University of Miami School of Law, Coral Gables, Florida
J.D., magna cum laude, 2005
Law School Academic Honors:

Full Tuition Academic Scholarship (Soia Mentschikoff Scholarship)
Law Review: Articles and Comments Editor,

University of Miami International and Comparative Law Review

Children and Youth Law Clinic Fellowship
Order of the Coif
Deanís Awards for Outstanding Academic Achievement in:

Legal Research and Writing
Federal Civil Procedure II
Organizational Behavior Seminar
Scientific Evidence Seminar

2. Xavier University, Cincinnati, Ohio
B.A. in English, cum laude, 1992
Undergraduate Honors:
Fredin Memorial Scholarship for one year of study at the Sorbonne

Thomas G. Savage Scholarship for Excellence in the Humanities

Trustee Scholarship for Academic Excellence
Back to top
Beyond Litigation: Japanese Legal Education Reform and What Japanís New Lawyers Will Do

,

U. Miami Intíl & Comp. L. Rev.

, Spring 2006

Contributing Writer, A Writerís Guide to Places, Don Prues and Jack Heffron. Writerís Digest Books (2002)

Materials Editor, Concerns and Issues in Won Buddhism, Dr. Bokin Kim. Won Publications (2000)
Back to top
Search Engines: Westlaw, Lexis/Nexis, PACER, Accurint
Software: MS Word, WordPerfect, PowerPoint, Excel

Japanese (advanced)

French (conversational)
German (conversational)
Foreign Language Certificates:
Japanese Ministry of Foreign Affairs, Japanese Language Training Program for Educators and Professionals (外務省日本語研修事業), 2001

Japanese Language Proficiency Test (日本語能力試験), Highest Level (一級合格), 1995

La Sorbonne - Universitť de Paris IV, Paris, France, Cours universitaire, French Language and Literature, 1990